My Sporty Momma and her BFF's since college meet up almost weekly for their G.O.T.M. outings. It's an exclusive club that they created just for them after they all retired from teaching. Well once a year the daughters are allowed to go on an outing with them. Last year we all hung out at Town in South Miami, but this year our god sister Heather came up with the perfect outing. After multiple group texts and trying to find the perfect time, we booked Cake It Miami.
Have you ever heard of Cake It Miami? Cake It Miami is a DIY cake decorating studio in Miami Lakes. They provide the ultimate cake decorating experience for adults and kids. It is a great way to celebrate any occasion like birthday parties, girl's night out, bachelorette parties, or even a baby shower. Cake It also sells delicious custom cakes. You name it, they will make it happen.
As soon as we walked into the design studio, we were met with a warm and friendly ambiance. This set the tone for some much needed Mommy-Daughter time. We quickly unpacked our snacks and bottles of wine. After taking a few pictures with all of their cute backdrops, we got down to decorating. Cake It provides everything you need to decorate a professional "Instagram" worthy cake. Each station is equipped with freshly baked layered cakes, an apron, decorating tools and icing… lots of icing. We asked Alexa to play Beyonce and it was on!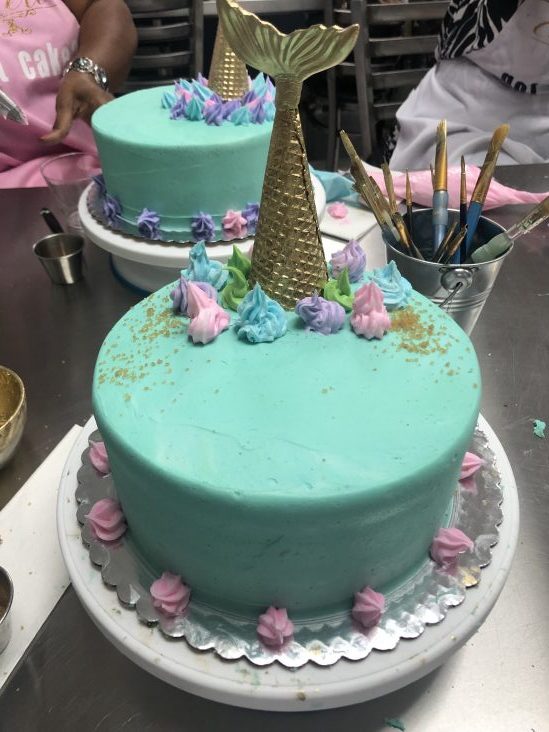 Let me be perfectly honest, cake decorating takes some serious skills. The time and patience that it takes to create a mermaid cake is no joke. Now I know why these custom cakes cost so much. I am thankful for the instructor who walked around and assisted us through out the class so that we all could take home beautiful cakes. And guess what, the cakes tasted as great as they looked.
The best part of Cake It Miami was creating memories. My daughters couldn't stop talking about how much fun they had. It was a blessing to watch my mom and her friends laugh and smile as they watched their daughters and granddaughters play together. The cakes were pretty damn good too. Learn more at Cake It Miami! Here's what my daughter's had to say.
"It was fun, we got to experience how to decorate cakes." -Shalisa
" I loved decorating with the piping tools, creating flowers and eating it!" -Shayla
XO,
Sharonda