#BJsWholesalePartner Hey guys! Treat your family to this delicious dessert featuring fresh berries and ingredients from your local @BJsWholesale. BJ's Wholesale Club is my one-stop shop for all my favorite recipe ingredients and essentials! I love this recipe for entertaining friends and family during the fall. It is light, fresh, and very tasty. You can also switch it up by adding your favorite seasonal fruits and toppings. Or perhaps substitute the pie crust with granola for a healthier crust option.
Shop at BJ's using one of their many convenient shopping options, including curbside pickup, in-club pickup, or same-day delivery.
Seasonal Fruit Tart
1/2 cup Heavy Whipping Cream
4 ounces Wellsley Farms Cream Cheese
1 teaspoon Wellsley Farms Vanilla
2 tbs. Wellsley Farms Sugar
Pie crust
Seasonal fruit
Strawberries, blueberries, raspberries
Whipped cream
Mint leaf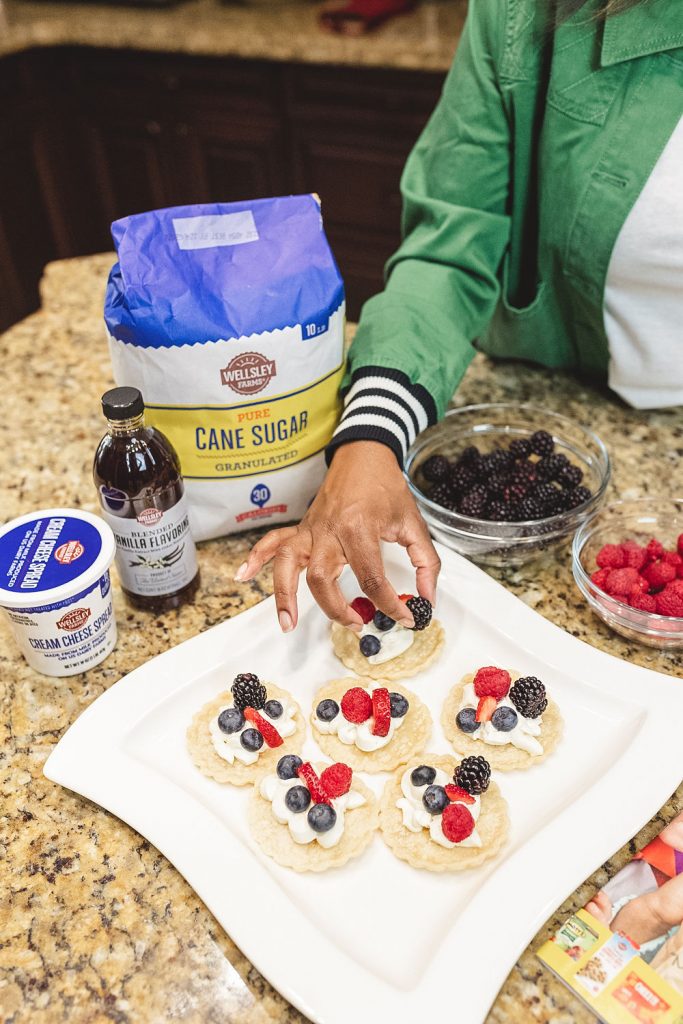 Directions 
Combine heavy whipping cream, 2 tablespoons of sugar, cream cheese and 1 teaspoon of vanilla to a mixing bowl. Using either an electric hand mixer or wire whisk, whip the cream until it forms still peaks. Whip for an additional 30 seconds to a minute to make the cream firm. Set in the fridge covered until ready to assemble the tarts.
To prepare the fruit blend, wash the fruit and dry the berries gently. Slice the strawberries into bite sized pieces. If the berries are not sweet enough you can add a little sugar. Allow the berries to sit for about 30 minutes. Taste for sweetness and add additional sugar if needed. Allow the berries to sit for at least anther 15 minutes if additional sugar is added.
To assemble the tartlets spread a generous serving of the cream filling on the tart shell. Top with scoops of the berries, draining off any excess liquid as it may ruin the cream filling. Add whipped cream and mint leaf to garnish. Serve immediately.
#BJsWholesaleClub #BJsSmartSaver