As a busy mom of three, sometimes I find it hard to get things done. For years I have been eager to whiten my teeth but never made the time. The last time that I used a teeth whitening system was in 2005 for my wedding. First, I had to make an extra appointment, get my impressions done, wait weeks for them to arrive in the doctors office and then pick them up. Oh and my gums were so irritated that I was afraid to try it again. Every time my dentist asked me about whitening again I always said "oh I will be back for that."
Like most moms I love my daily cup of coffee and occasional glass of wine. However, I never really thought about what these habits were doing to my teeth. Guess what it was doing? You got it…years and years of staining!!!! Now I will admit that I have tried charcoal toothpaste, baking soda, and other whitening toothpastes but nothing really helped.
Well…things have definitely changed in the teeth whitening industry since 2005. There are tons of at home whitening options but Smile Brilliant is a professional system that is a fraction of the cost of most treatments. I was so thrilled when Smile brilliant asked me to try their teeth whitening system in exchange for sharing my experience with all of you. Oh and did you know that now you can get Smile Brilliant delivered right to your door? That's right no extra dentist appointments so you are instantly saving time and money!
My Smile Brilliant Experience
Due to my extreme teeth sensitivity, I knew that I had to get a kit with desensitizing gel. My package arrived with pre-filled syringes and instructions on how to create my custom impressions. This was the hardest step and trust me it wasn't that hard if you follow directions. The impressions took a few minutes to make and then they have to harden. After they dry, you place them in the envelope provided and ship them back.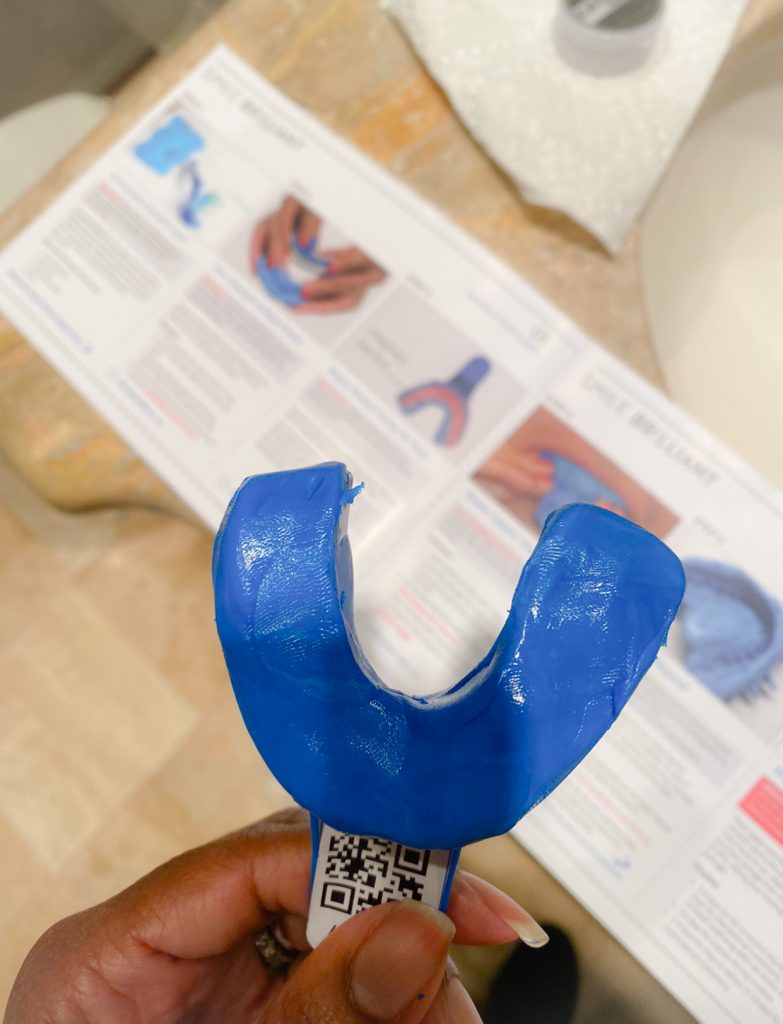 About a week later my custom trays arrived and I was ready to begin my at home teeth whitening! I started with 30 minute sessions of whitening followed by 15 minutes desensitizing gel. After about a week I increased my session to 45 minutes. I was nervous to wear them longer because my gums are extremely sensitive. The suggested time for whitening is 45 minutes to 3 hours a day. I always tried to whiten at night before bed. Yes I missed a few session falling asleep putting the kids to bed!
It took me about 3 weeks to complete the Smile Brilliant kit. I must say that I was very thrilled with the results. I was even more excited when others started noticing that my teeth looked brighter. The only thing that I was disappointed in was not trying Smile Brilliant sooner. A teeth whitening procedure is both safe and effective.
If you are thinking about trying an at home whitening system, I have the best surprise for you. Smile Brilliant will be giving one of my readers a FREE Sensitive Whitening System. Giveaway is open to residents in the US, UK, Australia, & Canada. Even if you are not selected you will receive a discount just for entering. Click here to enter and simply follow the steps. Good Luck and Happy Whitening!
XO,
Sharonda