As we inch closer to the new year and reflect on all of the ups and downs of 2017 one word stands out, PATIENCE. It was a long and trying year for almost everyone I know. Starting with the inauguration of the President and well shit just seemed to go downhill from there. Anxiety levels were sky high, racial tension reappeared like it was 1985 and well life as we knew it had changed. Then you add in all of our personal drama and it just seemed like a roller coaster ride that never quite stopped. 
I know that I am not the only one that felt the strain. We talked about it daily on social media and in our small circles amongst our "real" friends. We argued over politics and we unfollowed people on Facebook. We marched in protests. We attended the weddings and funerals of our loved ones. We got bad news from doctors. We laughed and we cried. But we made it. We overcame some of the hardest days of our lives and that says a lot. 2017 will be remembered as a year of loss but also a year of finding the strength that we never knew we had. It was a year full of lessons for the future. I have learned so much about myself. I am definitely not who I was on December 30, 2016 and that is a good thing.
This year has taught me a lot about slowing down and letting go of the things that no longer serve me. I know you have probably heard it before but the mind is very powerful and when you learn to control your mindset things tend to go much smoother. It is not what happens to you but how you react to it. I have learned that relationships change and that it is okay if you don't have the same friends or talk to them every week. I have learned that it is okay to say no to invitations or volunteering if you just don't have the time. Most importantly, I have learned to say yes to me and my personal wants and needs. We as mothers tend to put ourselves last and as a result the burnout, frustration and fatigue will come in and hit you like a ton of bricks. But if we are patient and just as compassionate to ourselves as we are towards others we will live happier more fulfilled lives.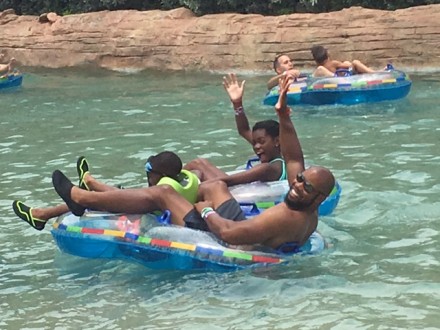 So I thank God for the lessons of 2017. The beautiful ones and the ugly painful ones. It was not at all what I expected. But I learned the power of compassion, forgiveness and self love. 2018 I am so happy to see what you have in store for us. I know it will be amazing.
Happy New Year,
Sharonda