This summer has been super busy, but in a good way. Over the past 8 weeks we have been to Orlando, Atlanta, Atlantis and on Monday the hubby and I headed to Turks and Caicos. It was amazing!!!! Well…. it didn't start off like that. The night before I was super anxious because my son started getting an upset stomach. I wasn't sure if it was nerves or something he ate but since he's on a strict diet, I started freaking out. Yes, the mom guilt started to kick in. What if he gets sick while we are gone? Are they going to stick to his diet (cause you know nobody does it like momma)? Does he have enough snacks and supplements to last for four days? Will the girls miss us too much? Yes, I was starting to drive myself crazy.
The Gansevoort
On Monday morning we woke them up to say goodbye and dropped the dogs off to the boarding house. I kept checking my phone because I was waiting for a package to come in. (I ordered a few last minute outfits from Neimans) At 10:30 we headed to the airport. Everything was moving pretty smoothly and we boarded the plane at 12:30. After pushing back from the gate the plane just sat there for about 20 minutes before the engine shut down. The pilot notified us that due to Tropical Storm Emily we would be delayed a while. I was like Tropical Storm, what Tropical storm, WTH is going on? Apparently a storm hit north of us around Bradenton, FL and all flights heading south are being held. We sat on the tarmac for 2 hours before finally flying out. CRAZY!!!!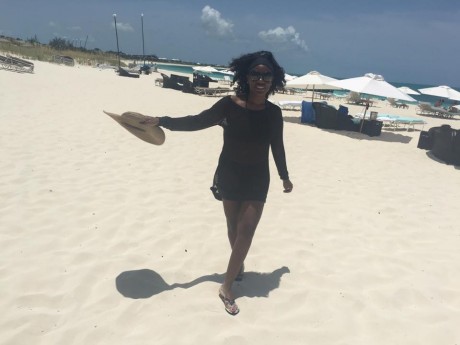 Strolling on the beach
After arriving 2 hours later we cleared customs, grabbed our bags and headed to the Gansevoort. Hello Paradise! It was love at first sight. This hotel was the perfect setting for a few days for #justus. No interruptions at dinner or quick 2 minute showers because you had an audience waiting for you. Time alone to reconnect, enjoy the beach and just chill. The greeters met us with Rum Punch and our room keys. We didn't have to do anything but sip and head to our ocean view studio.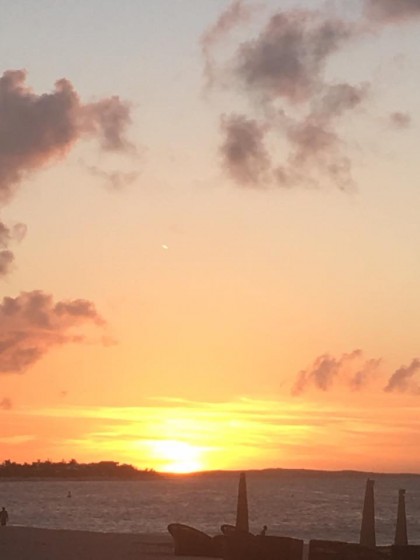 First night sunset
Over the next three days we enjoyed spending time together. We had dinner on the beach while watching the sunset. We got to play on the beach like kids. (I actually drew in the sand) One evening we took a sunset cruise of the island and saw all of the amazing houses and gorgeous clear water. The spa treatments at Exhale Spa were right on time. (I think it was the first time I took an outdoor shower)  We met some pretty amazing couples from all over the states. Some were celebrating their birthdays, on their honeymoon or just on a quick getaway from the kiddos like us.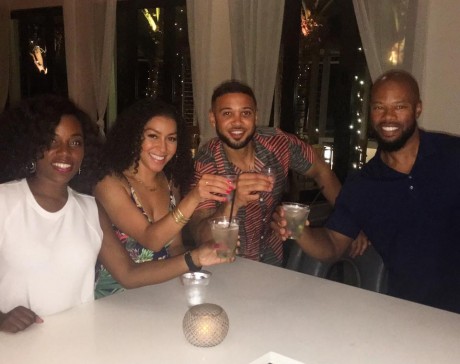 Drinks with our new Cali friends
Turks and Caicos is a beautiful place. The beaches are crystal clear and the people are very kind and happy. It is a great place to go and just chill. Although we didn't get to kayak or paddle board this time, I had an amazing time with my husband. We are already planning our next trip. Three years is way too long for a #justus trip. Every husband and wife needs time alone to just be together. So if you are in desperate need of some couples only time, I definitely recommend Turks and Caicos. It is perfect!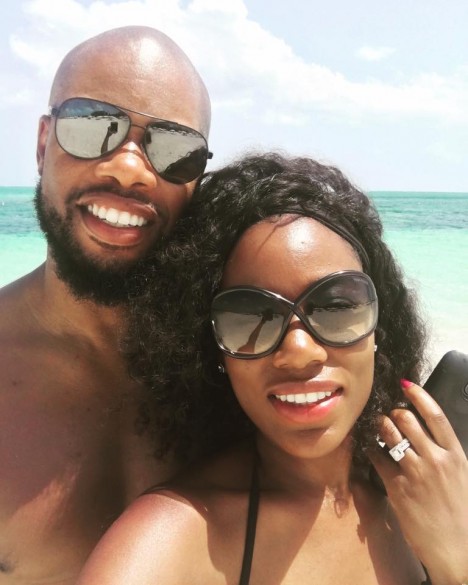 #justus
XO,
Sharonda
P.S.
The kids had a great time with their grandmas!