Last weekend my handsome hubby and I attended a beautiful Summer wedding in Atlanta. It was quite an adventure though. After a 45 minute ride to drop the kids off to their Godmother's house  we made it back to the hotel (another 45 minutes) with an hour to get ready. I had three outfits to choose from hanging in the closet. A hot pink fitted dress, a teal flowy dress and a peach jumpsuit. So I went with the first one I purchased. A year ago I would never have worn this outfit to a wedding. It definitely shows how much I have grown into my new body and "step out of the box" attitude.
This jumpsuit is fun and you can dress it up or down. I found a gorgeous necklace that I think really made the outfit wedding material. I decided on a low heel and boy was I glad it was low. It was a cocktail and appetizer wedding reception  so we were basically standing up for 3 hours.  The hubby even liked it too after he gave me a hard time over wearing pants to a wedding.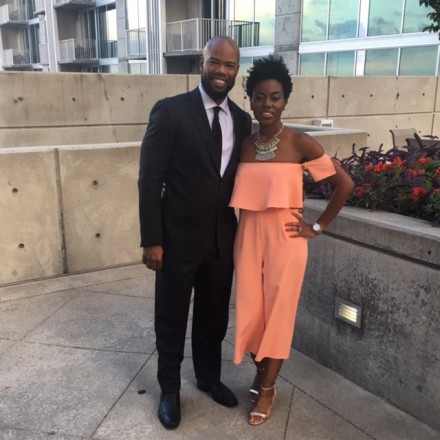 It was a beautiful evening and I was so happy not to have to rush back to pick up the kids. We even stopped for macaroons on the way back to the hotel.  Everything was beautiful and we had a blast! I am thankful for my friend that kept the kids overnight and my other friend for reminding me not to worry about what other people think and just rock the damn thing!
Jumpsuit: Misguided via Nordstrom
Shoes: Sam Edelman
Necklace: Nordstrom