Last week the Stew Crew and I loaded up the truck and headed up to Dolphin Mall for a day of fun. We were super excited to see all of the new stores and restaurants that opened since our last visit. And yes we needed to get our last minute Father's Day gifts for the Sporty Dads in our lives. Our first stop was breakfast at Cabo Flats. Cabo Flats is a cool Mexican restaurant that is known for their Salsa Nights. Yes, you can go learn how to Salsa at Dolphin Mall.
After breakfast we had a few hours to shop. The kids got to pick a few stores to go in. Momma got her shop on too. We were quick enough to grab a few gifts and a little something for ourselves. Game Stop, Neiman Marcus, GAP, Foot Locker and Victoria's Secret were a must.
Next, we met the other Mommy bloggers and their kiddos at Cool de Sac! All of the kids had a blast. It was a great time to wine down and enjoy a little lunch while the kids got to play. Cool de Sac is a great spot for busy moms to connect, watch the kids play and enjoy healthier meal options. Oh and they have WINE!!!! They have a toddler area, mini playground with cool thermoplastic playground markings and computer game station for those video game junkies. The Stew Crew had so much fun that they did not want to leave.
But the fun didn't stop there. Next up was bowling at Bowlero which also offers laser tag. We chose to bowl and the competition was fierce with those bumpers y'all! After an early lead I ended up coming in third place. It was fun though and the kids can't wait to go back.
So if you are looking to do some really cool stuff with the kiddos this summer, head on over to Dolphin Mall. There's definitely something for everyone and you can stay cool and dry in this crazy Miami weather.  We ate, shopped and played til we dropped. #naptime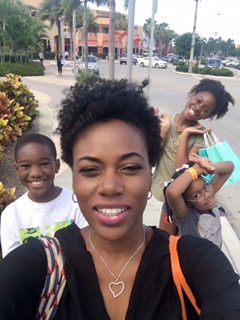 *Sponsored Post