Yesterday my kids and I took part in the Dolphin Mall loves Mommies event! This was a day full of food, fun, and yes my favorite…shopping! We met up at Brio for light bites and I must add that Brio is absolutely beautiful. They have an amazing private room for meetings and parties. After a few words from our Dolphin Mall hosts, we were off to enjoy the day.
We used the open shopping time to shop for Father's Day gifts. The kids wanted to get Dad something really cool. First stop the Samsung store! They all took turns trying on the new virtual headset! Next we hit up the Miami Heat store. We are huge fans and had to check out the latest gear. You know that I had to go into my favorite stores Bloomingdales and Neiman Marcus outlets. This is when shopping with 3 kids got a little cray cray. I tried to smile and keep my cool as the sales lady glanced over at my 3 dancing in the aisles. Yes #momlife! After purchasing a few things we met up with the group at the next stop.
Lunchtime was a hit! We love going to Dave and Busters. My husband and I actually had our wedding rehearsal dinner there back in 2005. (Time flies) Yes we loved it before we even had kids. The kids enjoyed mini cheeseburgers, chicken fingers, salad and pigs in a blanket. They were so excited to get to the arcade that they didn't even want dessert. Dave and Busters has lots of new games, menu items and entertainment for all ages. I know that we will go back before summer is over.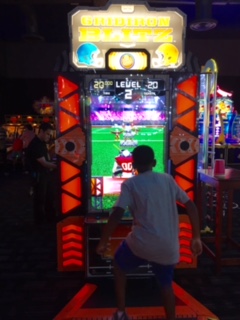 By 3:00 I was beat and we had an hour to drive home and prepare for swimming lessons. It was a full day but I am so blessed to be able to spend time with my kiddos. If you are looking for something to do with your crew head to Dolphin Mall. There really is something for everyone. There's the Imax movie theater, Strike bowling alley, Cool de Sac, Brother Jimmy's, Cinebistro and so many great stores and restaurants. You will definitely get the cool mom award!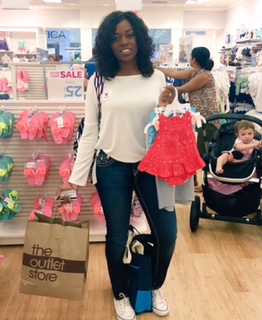 *Sponsored Post