All month long we are celebrating Breast Cancer Awareness and I urge you to think "Pink" when you are shopping this month. Your purchases may help save a life. Today I want to give the Pink Shop at Macy's a shout out. This month sales from products in the Pink Shop will go towards awareness, research and breast cancer education. Here are a few of my favorite items in the Pink Shop! Happy Shopping!
Essie "Pink About It" $8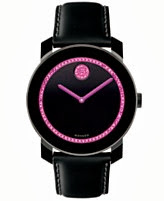 Movado Unisex Watch $450
Bobbi Brown French Pink Set $45
Shop Macy's or Macys.com today!
#pink, #macys, #breastcancerawareness