Happy New Year ladies!!!! I hope that your 2019 is off to a great start. Did you write down your goals, make a vision board, or sign up for a new gym membership yet? That is what we tend to do every year. On January 1st we come out swinging ready to take on the world. And there's nothing stopping us, right? Until about two weeks later we realized that those excuses that we thought we buried are still nagging us telling us that we can't do it. 
So this year I decided to try something new. I am not making any goals… yet. I am going to rest and give myself time to recover from the kids being home for 2 weeks. I am going to declutter my closet, clean out my makeup drawer, wallet, the locker room (aka the trunk of my car) and just chill. Because the truth is I am exhausted and I need more time to get my shit together. My mom says that I always had a plan growing up. Well ladies, I have no plan. I am just looking forward to getting back on a real schedule.
I have started my list of must read books for 2019. Over the break I purchased Jen Sincero: You are a Badass Every Day. It is a daily motivation book to remind you of your bad ass self! When I mentioned it on Facebook a friend told me to get the green book. So I decided to get the audio copy of You are a Badass at Making Money. The audio is working out pretty good for me. I realized that since I spend so much time in my car I can probably finish it in less than a week. (I'm already on Chapter 4) Now that I am thinking about it I should have gotten Michelle Obama's book on audio too cause I have been stuck on page 101 for a month. #momlife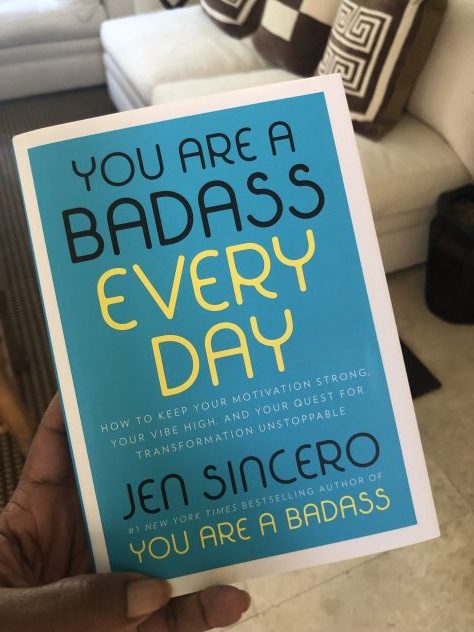 So please don't feel bad if you haven't set goals or made a vision board yet, just do it when you are ready. Well that's it for now. I am going to chill, sip on some Kombucha and finish listening to Jen tell me that I am a badass so I can keep creating badass stuff and make some money in 2019. 
XO,
Sharonda 
P.S.
Amazon has a free 14 day trial of Audible if you want to give Audio books a try. : )