Have you ever tried a Himalayan salt massage? When I arrived at my monthly massage appointment last week I saw the pink salt lamps and were drawn to their energizing light. So I read the sign. Upgrade your massage for only $30 and a list of some of the benefits. I already had a few lamps in my home to help clean the air so I figured I better try this. I needed all of the benefits that were listed lol.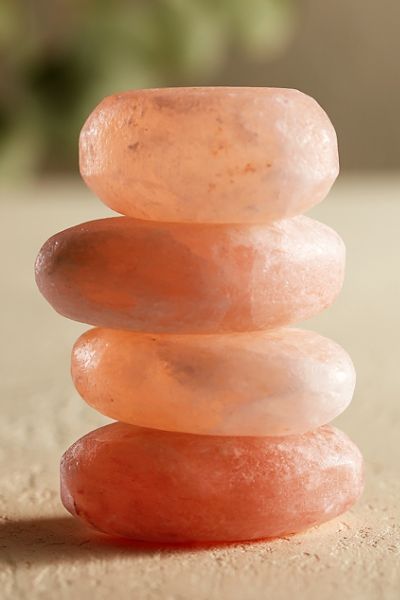 I wasn't quite sure what I was getting myself into but I figured hey let's give it a try. The spa is trendy and pretty up to date with the latest therapies, so it should be cool. But honestly, it wasn't exactly what I expected.  The salt rocks were a little hot to me at first. I quickly told the therapist and she cooled them down. (No burns in case you were wondering) Instead of using their hands they used the rocks most of the time to massage my body. My first response was that it was ok. I mean I liked it, I was relaxed but I didn't feel like they got all of the kinks out. I couldn't tell right away but later on that day my body felt lighter and I kept running to pee so that meant some serious detoxing was taking place. So it definitely works and I will definitely do it again. 
When I got a free minute I looked up the benefits of a Himalayan salt massage and I was shocked to see how powerful these pretty pink rocks are. Himalayan Salt is the most beneficial, cleanest salt on the planet. It is over 250 million years old. Here are the top 10 benefits of a Himalayan salt massage.
Benefits of Himalayan Salt Massage
1. Detoxify and alkaline the body
2. Clears energy
3. Stones provide 84 essential mineral and trace components 
4. Reduces the signs of aging
5. Improves circulation 
6. Calms the nervous system
7. Improves sleep
8. Reduce inflammation
9. Improves digestion
10. Energizes
If you are not quite ready for a salt massage try adding Himalayan salt to your food or make yourself a warm Himalayan salt bath. Your body will thank you! #treatyourself 
XO,
Sharonda